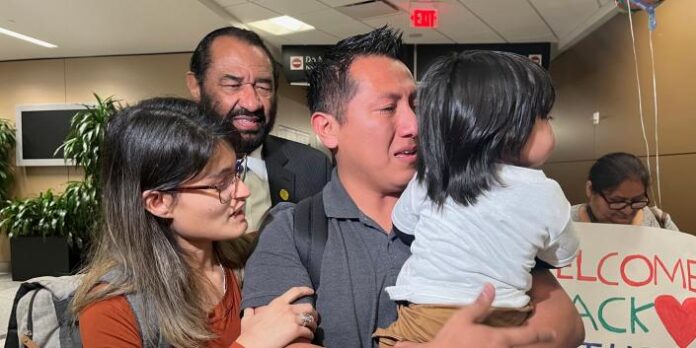 EL PASO, TEXAS.- Nearly six months to the day since he last stepped foot in the United States, Jaime Avalos received a hero's welcome at the Southern border this week where his young wife and infant son were among a cadre of supporters anxiously awaiting his return.
The Houston husband and father spent the last half a year stuck in Ciudad Juárez after an immigration interview gone wrong left him stranded in Mexico and strapped with a 10-year ban on reentering the US, tearing Avalos away from his life in Houston where his wife and son remained.
Avalos, 28, was born in Mexico but spent nearly his entire life in Texas after his mother brought him to the US when he was just a year old. In August 2022, he traveled to the US Consulate in Juárez to begin the process of trying to secure US citizenship after a decade shielded by his Deferred Action for Childhood Arrival, or DACA, status, which prevented him from being deported despite being undocumented.
The meeting quickly deteriorated into a nightmare, however, when Avalos learned his mother had briefly taken him back to Mexico when he was just 7 years old — a trip he says he doesn't remember — before he was able to establish permanent residency in the US. The revelation that he had illegally re-entered the country not once, but twice, not only dashed his immediate dreams of becoming a resident but saddled him with a 10-year ban on returning to the US.
The devastating discovery set off a months-long campaign spearheaded by Avalos' wife, Yarianna Martinez, who secured the help of a new immigration attorney, Naimeh Salem, as well as the couple's US congressman, Rep. Al Green of Texas, in the effort to bring her husband home.
Their combined efforts culminated in a happy ending on Monday when, after a nerve-wracking walk across the Paso del Norte International Bridge, Avalos was finally able to embrace his family on American soil.
Local media present at the border on Monday, February 20th, captured a familial reunion full of emotion and exaltation.
Source: Diario.MX
---