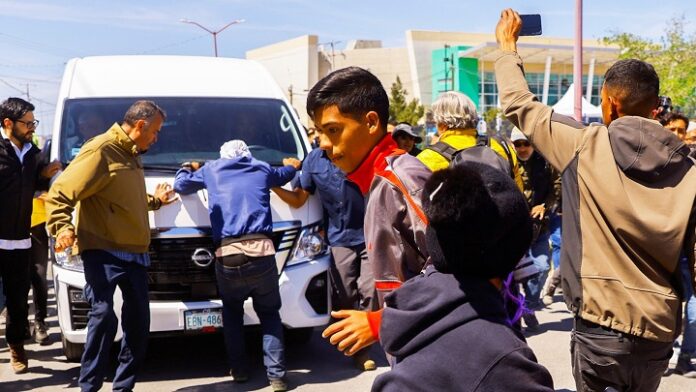 CIUDAD JUÁREZ, CHIHUAHUA — Mexican President Andrés Manuel López Obrador faced a protest over a deadly fire at an immigration holding center when he arrived for a previously scheduled meeting with state officials.
López Obrador arrived in Juárez at 1 p.m. Friday to meet with Chihuahua-based officials of his Banco Bienestar, a project he has been promoting to deliver "financial support, scholarships and pensions to the most vulnerable sectors," according to a statement.
But the visit was met with anger in the border city where 39 migrants died of burns and smoke inhalation in a blaze Monday night at a migrant processing center. Some 68 migrants were being held behind bars at the National Migration Institute building located at the foot of the Stanton-Lerdo international bridge to El Paso.
Venezuelan migrants swarmed the presidential caravan as López Obrador departed his meeting at the Colegio de Bachilleres, a high school, through the gates of the city's central park.
Mexican President Andres Manuel Lopez Obrador observes as his security tries to remove a Venezuelan migrant who attempted to stop the president's vehicle as the president exited Colegio de Bachilleres school in Ciudad Juarez during his visit on March 31, 2023.
They pounded on the white van where the Mexican president was riding shotgun. He opened the window and took the hand of a woman who pleaded with him as others pushed letters into his hand and cried for Justicia, or justice, for the migrants.
López Obrador leaned toward one of the migrants and could be heard saying, "Yes, there will be justice."
Mexican president #AMLO swarmed by #migrants & activists calling for justice for 39 killed in a fire at a Juárez #immigration lock-up. See full coverage @elpasotimes @fotornelas pic.twitter.com/mdABEtQi2j

— Lauren Villagran (@laurenvillagran) March 31, 2023
The area around the school and park was heavily guarded by Mexican National Guard, but neither the soldiers nor the president's security officers stopped the migrants and protesters from blocking the presidential van.
Activists detained the van for several minutes as it inched forward. An activist screamed at the president: "Assassin!" she cried.