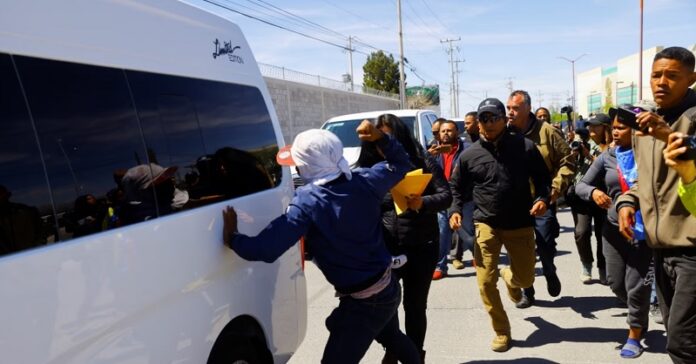 When she learned that her son and grandson had decided to travel from El Salvador to the U.S. to find work, Vilma Gutierrez tried to convince them not to go, worried by the many risks migrants face on their journey north.
On Wednesday, Carlos Pacheco, her son, appeared on a list of 39 people who died in a Ciudad Juarez, Mexico, detention center fire, one of the deadliest migrant tragedies in years.
His 22-year-old nephew Marvin Garcia, her grandson, is hospitalized and "stable", relatives told Reuters, after managing to speak with him for two minutes on Wednesday morning.
Pacheco, a 43-year-old bricklayer from the impoverished El Sauce neighborhood, some 37 miles (60 km) west of the Salvadoran capital, decided to travel with Marvin to find a better-paying job so he could send money home, help his parents stop working and buy a family home.
His wife, Maria Miranda, a 41-year-old cook, told Reuters on Wednesday her husband earned about $10 a day for construction work.
"They left because the situation here is tough. He (Carlos) worked and he said he wanted a better future for us and we couldn't reach it here," she said.
Last week, Mexican immigration authorities detained and sent of them to the Ciudad Juarez immigration facility, which straddles the border with Texas. Their family lost contact on Friday, and on Monday night, the deadly fire broke out.
A short video circulating on social media on Tuesday – appearing to be security footage from inside the center during the blaze – showed men kicking on the bars of a locked door as their cell filled with smoke.
Authorities are investigating the fire as a possible homicide.
Salvadoran authorities have not confirmed Pacheco's death, nor released the number or identity of the Salvadoran victims, but condemned the actions of detention center staff and demanded a thorough investigation.
"It is not fair that so many innocent people leaving home to fight for their families should die," said Miranda. "They could have helped and they did not. Let justice be done."
Thousands of migrants from Central America, South America, and the Caribbean try to reach the U.S. each year, fleeing violence and seeking better opportunities to work, but many die along the way.
Source: Voz de América