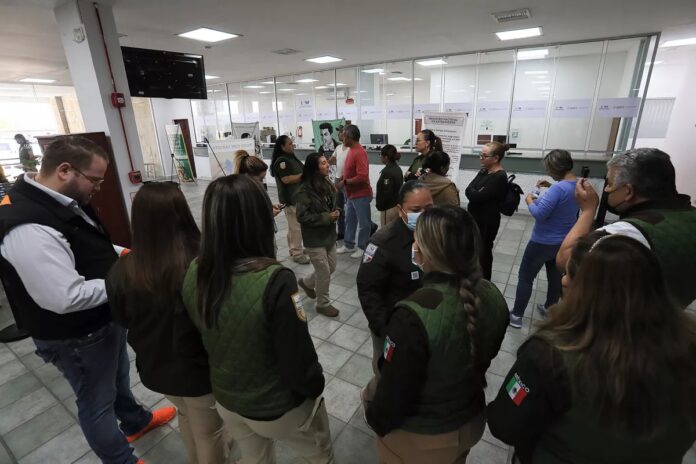 A dozen agents of the National Institute of Migration (INM) protested this Thursday against the apprehension of three of their colleagues detained by the Mexican Prosecutor's Office for the case of the 39 migrants who died as a result of a fire in the immigration center of Ciudad Juárez, border with the United States.
The demonstration came after Mexican authorities in Mexico City reported that five people were detained in connection with the death of the migrants, including three INM officials and two private security police.
The agents demonstrated at the headquarters of the Córdova-Americas International Bridge, which links Mexico with the United States, and pointed out that the detention of their colleagues "is unjustified."
One of the agents who spoke in an annoyed tone was Jesús Ignacio Molina Leyva, who told EFE that his colleagues "did what they could."
He explained that in a video circulating on social networks, "one of his colleagues took an extinguisher (to fight the fire), but it did not work properly and was unable to put out the flames."
He said that he knows his colleagues and said that "they are not inhuman, they do their job that has been conferred on them by the country's immigration law."
In addition, he pointed out that the highest positions must also be tried.
"All the commissioners are the first to be in jail, not us (agents) who only do our job," he added.
The nonconformist recalled that there is a regulation that must be complied with "the cowards are crouching there, there is the one who must speak (referring to the head of the INM of Ciudad Juárez)."
This Thursday, in his daily conference, the Mexican president, Andrés Manuel López Obrador, promised that there will be no impunity after the fire that killed the migrants but evaded answering whether the head of the National Institute of Migration (INM), Francisco Garduño, and if the private security company in charge of the immigration station belongs to a Nicaraguan consul.
The scrutiny of the Government of Mexico has grown since Monday's fire at an INM migration station in Ciudad Juárez, on the border with the United States, where there were almost 70 migrants from Guatemala, El Salvador, Colombia, Ecuador and Venezuela held for their deportation.
Leaked security videos show impassive agents while detained migrants asked them to open the door, and compatriots of the victims have denounced that the tragedy "could have been avoided."
López Obrador also evaded demanding the resignation of Garduño Yáñez, head of the INM, despite the claims of the opposition and human rights defenders.
The Secretary of Security and Citizen Protection (SSPC) announced Wednesday that it has identified eight alleged perpetrators of the fire, including two federal agents, a state immigration agent and five agents from the private security company.
Source: San Diego Unio Tribune