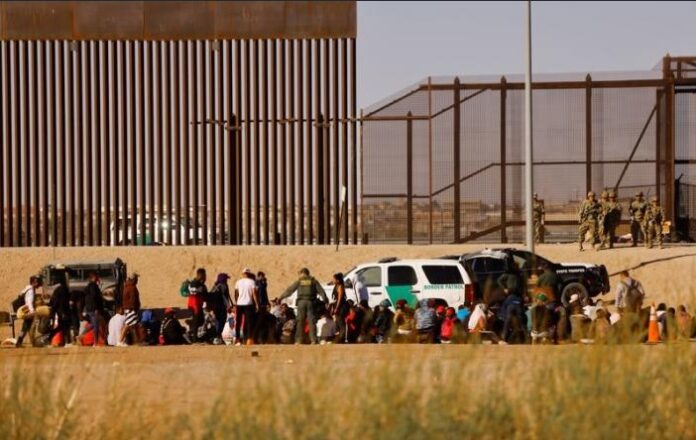 More than a thousand migrants in northern Mexico surrendered to U.S. border authorities, frustrated by recent asylum policies, and shaken by a fire at a nearby migrant detention center that killed dozens this week.
A Customs and Border Protection (CBP) spokesperson said the agency was processing over a thousand migrants who turned themselves in on Wednesday in El Paso, Texas, reachable on foot from Ciudad Juarez, Mexico.
In a statement late Wednesday, CBP said it was expelling migrants under a COVID-era order known as Title 42, and beginning removal proceedings for other migrants who cannot be returned under the measure and lack legal status.
Migrants said a new U.S. government app meant to streamline the process of securing asylum appointments from outside the United States has left them feeling fed up and helpless.
Carrying children and belongings, groups of migrants moved briskly Wednesday afternoon toward a gate at a section of the U.S. border wall on the frontier, which has become a destination for asylum seekers and smugglers trafficking them.
"Now, with God's favor, we'll make it there," said Carlos Garcia, pulling his young daughter at a jog as he tried to get his name on a list supposedly granting access to the United States.
A false rumor circulated on social media Wednesday that migrants surrendering at a specific spot at the border would be able to freely cross into U.S. territory.
Some migrants turned back, fearful of arrest, but by late afternoon hundreds had formed a line along the steel barrier on U.S. soil. By early evening, CBP agents had begun processing migrants through a door intended for maintenance workers.
Two dozen migrants interviewed by Reuters said they were fed up with daily discrimination and violence in Mexico, with some saying they feared suffering a similar fate to the 39 men who died while detained at a government migrant center on Monday.
"I came to live, not to die," said Juan Velázquez, a 22-year-old migrant. "That's why I want to leave here now. Mexico is not a place for us."
"I've already been there," he added, referring to the detention center run by Mexico's National Migration Institute (INM). "They treat us like criminals."
Mexican prosecutors said on Wednesday they were investigating the fire at the migrant center as a possible homicide and had identified eight people who may have been responsible: two federal agents, a state migration officer, and five members of a private security firm.
A short video circulating on social media – appears to be security footage from inside the center during the blaze – showed men kicking on the bars of a locked door as their cell filled with smoke. Three uniformed people can be seen walking past without trying to open the door. Investigators said the video was part of the probe.
By the border, a young Venezuelan mother prayed alongside her two daughters – visibly tired and wearing torn, dirty clothes.
"God, help us," she repeated.
As they waited for a chance to cross the border, Border Patrol agents and Texas National Guard troops stood motionless in front of the massive metal gate, preventing them from getting through.
A U.S. security helicopter flew overhead.
Multiple migrants said they tried unsuccessfully to obtain a virtual appointment to start the asylum process in the U.S.
Since the Biden administration rolled out the app in January, asylum seekers have complained of glitches, high demand, and a lack of appointments.
"The application doesn't work. They need to find another way to help us, if that's really what they want," said Carlos, a 28-year-old migrant who said he spent upwards of 10 hours a day on the app, without success. "It's trash."
U.S. officials have defended the app, saying early glitches have been resolved and that issues are mainly down to the huge number of people using it to access a limited amount of appointments.
With information from El Pais
---