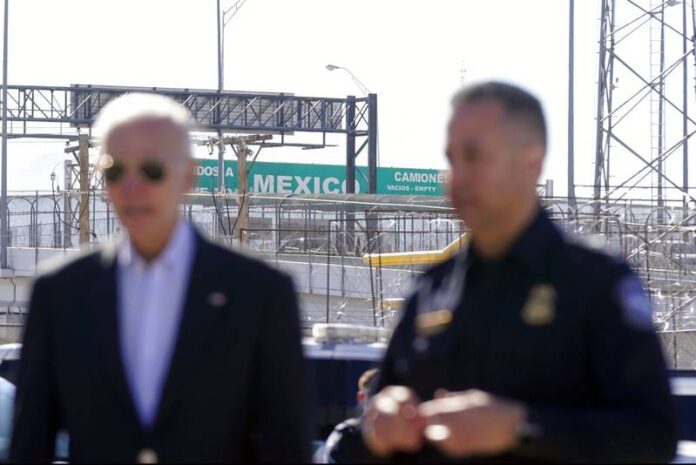 In the midst of a migration crisis on the border with Mexico, US President Joe Biden visits El Paso, Texas this Sunday, prior to his trip to meet with AMLO.
Joe Biden inspected a busy port of entry on the US-Mexico border on Sunday, making his first trip to the region in two years in office and after Republicans criticized him for being soft on border security while the number of migrants crossing has skyrocketed.
Biden watched as El Paso border agents showed him how they search vehicles for drugs, money, or other contraband. In a sign of heightened political tensions over immigration, Republican Gov. Greg Abbott handed Biden a letter upon arrival saying the "chaos" at the border was a "direct result" of the president's inability to comply with federal laws.
Biden spent a few hours in El Paso, Texas, which is currently the largest corridor for illegal crossings, a situation that is due in large part to the flow of Nicaraguan citizens fleeing repression, crime, and poverty in their country. Four nationalities — including Nicaraguans — are now subject to expedited removal under new rules enacted by the Biden administration last week, drawing strong criticism from migrant advocates.
The president met with border officials to discuss migration, as well as the rise in trafficking in fentanyl and other synthetic opioids, which is causing a skyrocketing overdose rate in the United States.
Biden visited the El Paso Migrant Services Center and meet with non-profit organizations and religious groups that support arriving immigrants. It is not clear if Biden will speak with any migrants.
Biden's announcement on border security and his visit to the border are intended in part to quell the political hubbub and soften the impact of upcoming immigration investigations promised by House Republicans. But any lasting solution will require intervention by Congress, which is sharply divided and where multiple attempts to enact sweeping changes have failed in recent years.
From El Paso, Biden traveled to Mexico City, where he and the leaders of Mexico and Canada will meet Monday and Tuesday for a summit. Immigration is one of the items on the agenda. The challenge facing the United States on its southern border requires cooperation among several countries, a sign that diplomacy will be as important as domestic US policies.
Source: El Financiero