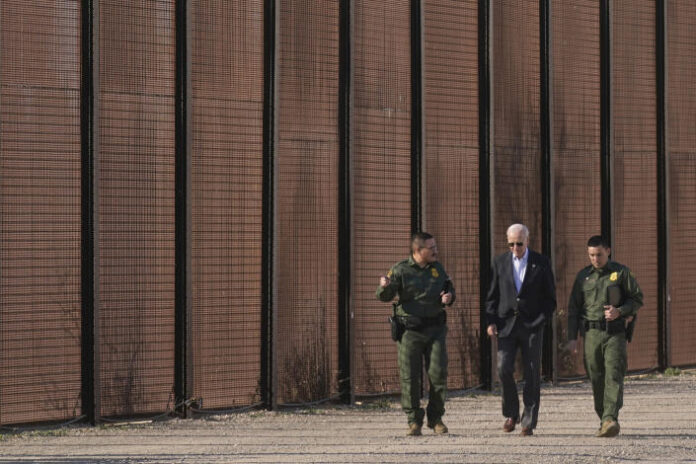 President Joe Biden walked a muddy stretch of the U.S.-Mexico border and inspected a busy port of entry Sunday on his first trip to the region after two years in office, a visit shadowed by the fraught politics of immigration as Republicans blame him for record numbers of migrants crossing into the country.
At his first stop, the president observed as border officers in El Paso demonstrated how they search vehicles for drugs, money, and other contraband. Next, he traveled to a dusty street with abandoned buildings and walked along a metal border fence that separated the U.S. city from Ciudad Juarez.
His last stop was the El Paso County Migrant Services Center — but there were no migrants in sight. As he learned about the services offered there, he asked an aid worker, "If I could wave the wand, what should I do?" The answer was not audible.
Biden's nearly four-hour visit to El Paso was highly controlled. He encountered no migrants except when his motorcade drove alongside the border and about a dozen were visible on the Ciudad Juárez side. His visit did not include time at a Border Patrol station, where migrants who cross illegally are arrested and held before their release. He delivered no public remarks.
The visit seemed designed to showcase a smooth operation to process legal migrants, weed out smuggled contraband, and humanely treat those who have entered illegally, creating a counter-narrative to Republicans' claims of a crisis situation equivalent to an open border.
But his visit was likely to do little to quell critics from both sides, including immigrant advocates who accuse him of establishing cruel policies, not unlike those of his hard-line predecessor, Donald Trump.
In a sign of the deep tensions over immigration, Texas Gov. Greg Abbott, a Republican, handed Biden a letter as soon as he touched down in the state that said the "chaos" at the border was a "direct result" of the president's failure to enforce federal laws. Biden later took the letter out of his jacket pocket during his tour, telling reporters, "I haven't read it yet."
Source: Diario.MX