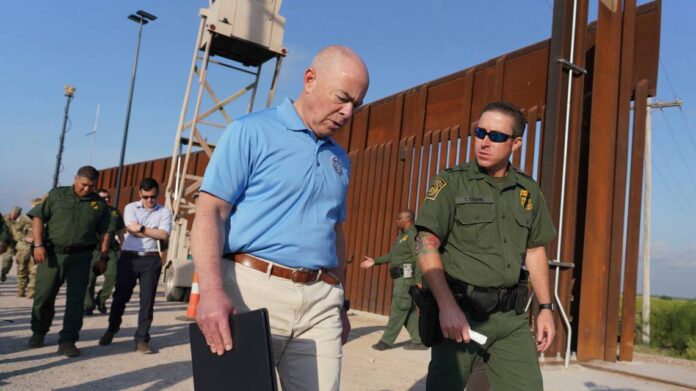 CIUDAD JUAREZ, CHIHUAHUA.- Homeland Security Secretary Alejandro Mayorkas on Sunday, January 8th, rebuffed calls from leading Republicans to step aside — or risk impeachment — and underscored the critical nature of managing migration challenges "gripping" the Western Hemisphere.
In an interview with ABC "This Week" anchor George Stephanopoulos, Mayorkas said he has no plans of resigning.
Stephanopoulos cited this warning from House Speaker Kevin McCarthy in November: "If Secretary Mayorkas does not resign, House Republicans will investigate. Every order, every action, and every failure will determine whether we can begin impeachment inquiry."
"I've got a lot of work to do," Mayorkas told Stephanopoulos in response. "I'm proud to do it alongside 250,000 incredibly dedicated and talented individuals in the Department of Homeland Security, and I'm going to continue to do my work."
Mayorkas added that while he has no intention of stepping down, he is ready for the investigations promised by the House GOP, whose lawmakers have been sharply critical of the Biden administration.
Rep. Jim Jordan, R-Ohio, last year accused Mayorkas of failing "to enforce immigration law and secure the border through all means necessary."
On "This Week," however, Mayorkas said there were larger forces at work, such as "a broken immigration system that Congress has failed to repair" and "the greatest displacement of people since World War II."
As the secretary prepares to join Joe Biden on Biden's first trip to the southern border as president, authorities there continue to take sweeping action to respond to the tens of thousands of migrants arriving each month.
"This is something that is not unique to the United States," Mayorkas told Stephanopoulos. "It's gripping the hemisphere and a regional challenge requires a regional solution."
Last week, the Biden administration announced that in conjunction with the Mexican government, it expects to send as many as 30,000 unauthorized Cuban, Haitian, Nicaraguan, and Venezuelan migrants to Mexico each month.
Source: El Tiempo