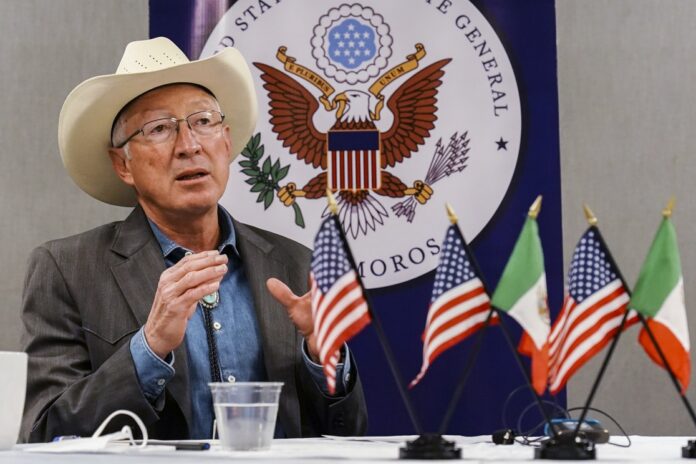 Mexico City. The government of Mexico has made a commitment with that of the United States to deport migrants who cross the common border in an illegal manner, said the US ambassador to our country, Ken Salazar.
During a work visit he made through the border area between Tamaulipas and Texas, the diplomat also warned that the coyotes "are criminals" who deceive migrants from Central America, promising that they will cross easily, for which they charge up to 8 thousand dollars per person. It is they, he added, who formed "the migrant caravan" that is heading to the United States, but upon arrival, they will be deported.
The US embassy in Mexico released a statement reporting Salazar's visit to various points along the border. During that visit, the diplomat emphasized: "People who try to enter the United States outside the law will be detained. The United States and Mexico have committed to return these migrants to their countries of origin ".
However, these expressions come after the Mexican Foreign Minister, Marcelo Ebrard Casaubón, assured that the Andrés Manuel López Obrador administration will not deport migrants who are returned by US authorities.
As part of his activities at that border point, the ambassador offered a press conference at the United States Consulate General in Nuevo Laredo, where he described the migrant caravan that began a few days ago in Tapachula, Chiapas, as a "very painful path".
However, Salazar sent a clear message: "the reality is that if you don't have a permit, you can't enter the country. Everyone should understand that the United States-Mexico border is closed for illegal crossings, that message must be given to the migrants ". He warned that those who try to cross into his country irregularly will be detained.
Referring to the so-called coyotes, the diplomat remarked that they get rich from human trafficking since each person who tries to reach the United States must pay between $ 4,000 and $ 8,000.
"They are the culprits and it has to be investigated. These inquiries will be carried out by the governments of Mexico and the United States. We work together to investigate and proceed legally against human trafficking organizations. The coyotes are criminals and must be arrested and brought to justice. They victimize migrants by taking them along dangerous roads to the border, "he pointed out.
Source: jornada.com.mx