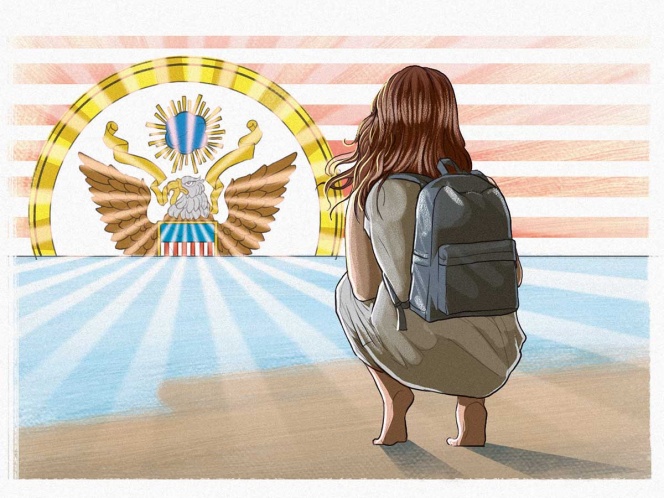 On their journey to the US, many of the minors in the Ciudad Juárez shelter feared being caught by organized crime or by Mexican authorities.
The children got out of a white truck, dazed and tired, rubbing their eyes to get rid of sleep.
They were traveling without their parents, hoping to cross the border into the United States, but they did not succeed.
Detained by Mexican immigration agents, they were transferred to a shelter for minors in Ciudad Juárez, Chihuahua, where they were detained to be processed. For them, this compound, a kilometer and a half from the border, is the closest they will be to the United States.
Those children are part of a growing wave of migrants waiting to enter the United States. If they manage to cross the border, they can try to present their asylum application to the US authorities. Some may be reunited with their parents, who are waiting for them there.
But for those who are trapped in Mexico, the dream has ended. They wait in shelters, often for months, for the paperwork to be completed and then they are deported.
In 2018, 1,318 children entered Ciudad Juárez shelters for unaccompanied minors, according to local authorities. In 2019, the number of admissions grew to 1,510 children and then dropped to 928 last year, due to the pandemic.
In the first two and a half months of this year, it shot up to 572, a rate that, if maintained, would be higher than that of 2019, the year with the highest figures on record.
When the minors enter the shelter their schooling stops, as the staff cannot offer classes for so many children from different countries and with such diverse academic backgrounds. So the boys fill their days with art classes, where they often draw or paint on photographs of their home countries. They watch TV, play in the yard, or do chores to help run the shelter, like laundry.
Elizabeth said that when Mexican authorities detained her in early March, she thought how disappointed her mother would be, who left for the U.S. in 2017 and got a landscaping job in Maryland.
When she called her from the shelter, her mother was happy because she thought she had crossed over. Then, upon hearing the news, she burst into tears.
If Elizabeth had crossed the river to Texas, her life would be different. Even if she had been detained by the US Border Patrol, she would have been turned over to her mother and given a trial date to file her asylum application.
In 2019, 71% of all cases involving unaccompanied minors resulted in deportation orders.
Some 460 children were deported from the Juárez shelters in the first three months of the year, most of them to Central America, according to Villa, the shelter's director.
Elizabeth does not know who will take care of her if she is deported to Villanueva. Her father abandoned the family when she was born. The grandmother she lived with is dying.
Source: Excelsior