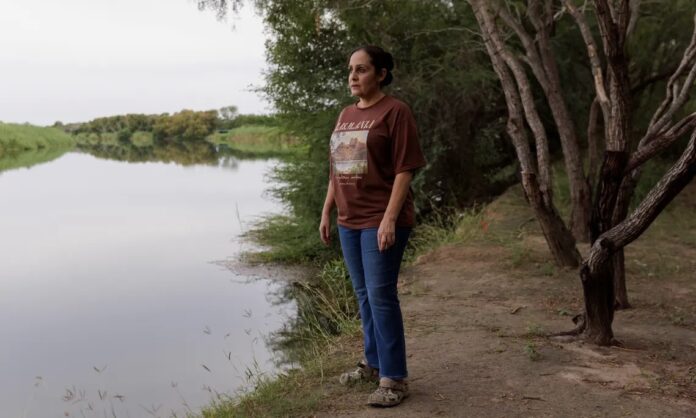 Area residents thought their land was safe after Trump's wall plans were foiled, only to discover Biden's plans to build more
Nayda Alvarez and her family love to spend time outdoors on their sprawling property along the Rio Grande in south Texas, fishing the river and barbecuing.
Under the previous administration, Alvarez fought against plans for Donald Trump's "wall" along the US-Mexico border designed to prevent migrants crossing into the US without permission, especially as the steel barrier would have sliced through her property, effectively ending her family's deep ties to the land.
Suddenly, the Biden administration is forcing Alvarez to reopen a chapter in her life that she thought was closed for good after Trump never finished his project and a lawsuit seeking to seize her property was dropped.
"I felt backstabbed … Biden did say 'not another foot'," Alvarez said, as she sat in her yard amid rural tranquility, where birds were singing and fish occasionally jumped out of the water.
Oftentimes, though, the sounds of nature are interrupted by the whirring blades of low-flying government helicopters patrolling the river, which marks the international boundary.
Under Trump, she felt compelled to paint "No Border Wall" in large white letters on her rooftop so that anyone flying above would see.
The Trump administration installed about 450 miles (725km) of barrier along the south-west border, which stretches almost 2,000 miles (3,200km) from the Pacific Ocean in California to the Gulf of Mexico in Texas. Joe Biden halted federal efforts upon taking office, though the rightwing Texas governor, Greg Abbott, resumed some construction at the state level.
But earlier this month, Biden made a controversial about-face on his explicit presidential campaign pledge not to continue construction on Trump's wall, when the administration announced it would build up to 20 miles (32km) of new border barrier in sections across rural Starr county in Texas.
An angry Alvarez said: "He said he was a man of his word and obviously he's not keeping his word."
On top of personal concerns about her land, Alvarez, a Democrat, does not think that the border barrier, touted by anti-immigration Republicans as a necessity, is at all effective. She echoed the area's Democratic congressman, Henry Cuellar, who called Biden's new plans: "a 14th-century solution to a 21st-century problem" that "will not bolster border security in Starr county".
Biden himself said the day after the announcement that barriers don't work. Migrant families and individuals cross the border without US authorization in many places, and patterns shift, depending on obstacles, but it was far from clear whether the intended spots for new construction in Starr county were the parts of the busy patrol sector cited by the Department of Homeland Security as seeing "high illegal entry".
Alvarez grew up on her land and it's where she raised her kids, plays with her grandkids and has Hispanic and Native American familial roots spanning five generations. Her great-grandmother was Native American, and she says they have found arrowheads throughout the family property.
The sites for the proposed new sections are varied, including farmland, ranches and wildlife refuges, and locations in close proximity to neighborhoods and historic cemeteries.
Many of the proposed sites in Starr county are on floodplains, according to federal maps.
Jim Chapman, an environmental activist and president of Friends of the Wildlife Corridor, a non-profit based in Alamo, Texas, explained that when an area floods, the wall-like sections deflect flooding into Mexico and even if the barrier is constructed of steel slats they get so clogged with debris they act like a wall.
"Environmentally, it's just enormously destructive … even in the building of the wall," he said, standing near a section of barrier where Trump's wall joins with the Biden administration's barrier enhancement. "In some cases, they just cleared the national wildlife refuge and it didn't matter what it was, it just got cleared."
Chapman described the Biden announcement as a "disappointment" and speculated that the government was under no congressional requirement to waive the 26 federal laws.
Birdwatching in the Rio Grande valley is a multimillion-dollar industry drawing tourists from around the world to see hundreds of species in a natural environment. And the area is known for its butterflies and vertebrates including the rare ocelot, javelinas and even bears.
Starr county's Salineño wildlife preserve is owned by a non-profit organization. Texas Republican governor Greg Abbott's office unsuccessfully tried surveying the riverside property earlier this year for border wall construction as part of the state's controversial border enforcement initiative Operation Lone Star. The authorities were denied access.
Some, however, are pleased by Biden's surprise plan. Starr county Republican party chair Claudia Alcazar supports a border wall and construction funding coming into one of the most impoverished counties in the US.
"There's going to be sections of Starr that cannot have a wall through it and that's where we could put our border patrol boots on the ground," she said.
Alcazar said she believed humans leaving litter and garbage in the countryside poses a greater threat to wild animals than a barrier damaging their habitats and blocking migration paths.
"Animals adapt" and will figure out a way to survive despite construction work and walls, she said.
She owns five acres of land that already has Trump administration barriers on it and she's fine with that, she said, while adding that she inherited the land and doesn't visit or use it.
Alcazar said the US immigration system was too broken "to deal with this influx" of migrants crossing into the US. "If fences and walls don't work, why does everybody else use them in their homes?" she asked. "It's hypocrisy to me."
Then, partly echoing a line from the poem etched on the Statue of Liberty, she said: "This isn't 'give me your tired, your poor, your hungry' any more."
In contrast, Alvarez, with her deep personal and family ties to the land she lives on, said of extending the border wall: "People that say we need it, [but] they're not being personally affected. They're not about to lose their home."
And as a migration deterrent, she said: "It's been shown, and proven, not to work."
Source: The Guardian