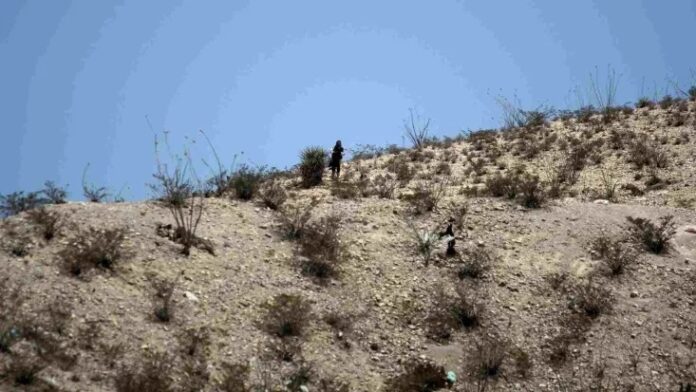 The Chihuahua Prosecutor's Office confirmed that it was soldiers of the Mexican Army who shot the migrants
In Chihuahua, two Guatemalan migrants died and four more were injured, when a human trafficker who was transporting them in a van allegedly did not stop when elements of the Mexican Army stopped him and tried to flee.
It happened early this Tuesday morning in the San Jerónimo desert, next to the border wall with Santa Teresa, New Mexico. This was confirmed by Carlos Manuel Salas, prosecutor of the Northern District of Chihuahua.
"They are Guatemalans, except for one who is Honduran. They also tell us that the driver fled with four other women who were not injured. We have no news about them. We have the car where the migrants were traveling."
The migrants who were injured said it was Mexican Army soldiers who shot them.
The Prosecutor's Office confirmed what the migrants said and pointed out that two elements of the army were identified as perpetrators of the attack, but only one was presented to determine responsibilities. Carlos Manuel Salas, prosecutor of the Northern District of Chihuahua, explained it like this:
The Ministry of National Defense is making four long weapons available to us. The Ministry of Defense presents one person as a possible participant, the other has not been found.
And he added that "once we finish with the statements of the injured, once we conclude the statements with the soldiers who are here, since it is a federal matter, we will turn it over to the Attorney General's Office of the Republic."
The district attorney said that three other soldiers will be presented in the next few hours, since they were part of the group traveling in the military vehicle and according to the investigation, they will be as witnesses.
Meanwhile, forensic investigations are being carried out to determine the causes of death of the two migrants, while Expert Services will determine with ballistics tests whether the weapons, owned by Sedena, were recently fired.
The deceased migrants, identified as: Elvis Enrique, 27 years old, and Margarito Canto, 45 years old, both of Guatemalan nationality, remain in the Forensic Medical Service, while three of the four injured migrants were discharged and another one underwent surgery and will remain hospitalized receiving medical attention.
Source: N+