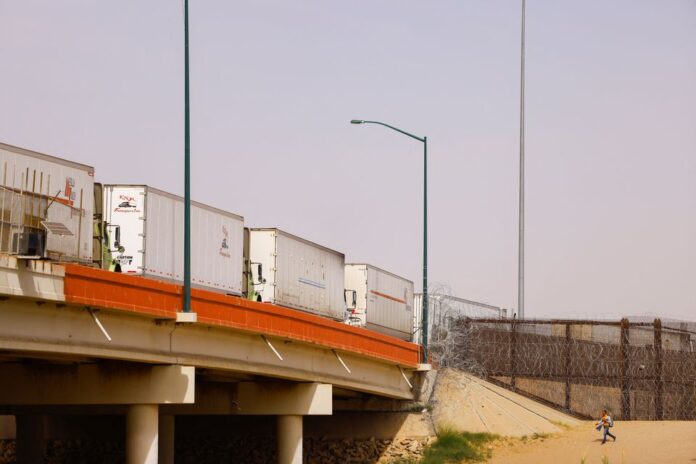 Mexico on Monday called for the U.S. government to mediate with Texas state authorities to ease inspections for cargo trucks crossing the border, as the country's president accused the Texas governor of "complicating the migration situation."
"The Mexican Government urges the U.S. government to mediate with Texas to stop the exhaustive inspections of cargo trucks carried out by the Texas Department of Public Safety," Mexico's foreign ministry said in a statement late on Monday.
State officials restarted costly, intensive cargo truck inspections last month. Texas Governor Greg Abbott has argued they are needed to stem the flow of migrants and illegal drugs into the country.
Mexican President Andres Manuel Lopez Obrador called Abbott's measures "unilateral" and "irresponsible" in a press conference Monday morning, alleging the governor was taking advantage of the situation as he was up for re-election.
"He's making the migration situation more complicated in order to politick," Lopez Obrador said.
The inspections come as a spike of migrants arrive at the U.S.-Mexico border, with record numbers of people moving across the continent.
The measure has held up some $1.9 billion in goods, Mexico's national cargo transport chamber said on Sunday.
Along with the state-mandated inspections, cargo has been slowed by the temporary closure of U.S. federal processing at several crossings, Mexico's foreign ministry added.
After dialogue between the two countries, the Bridge of the Americas between El Paso, Texas and Ciudad Juarez will partially reopen beginning Tuesday, Mexico said.
Source: Reuters