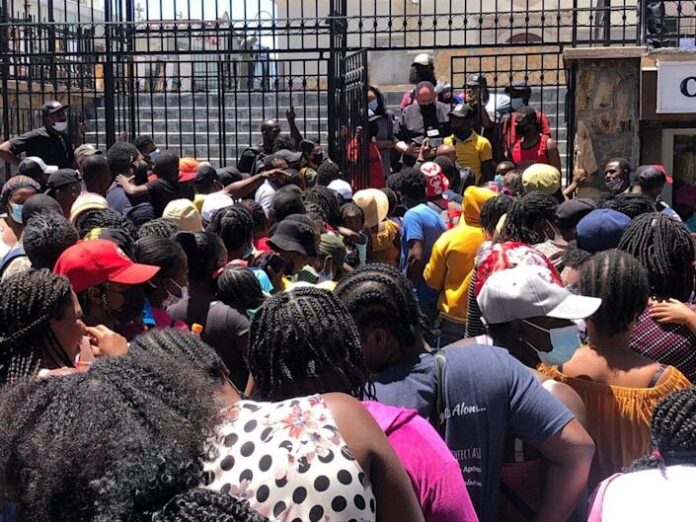 Mexico's government has agreed to accept non-Mexican migrants and asylum-seekers deported by U.S. authorities along the southern border even after the pandemic-related emergency rule known as Title 42 lapses next week, Mexican and U.S. officials said in a joint statement late Tuesday.
The agreement between Washington and Mexico City will allow the Biden administration to continue deporting some migrants who U.S. officials have struggled to deport to their home countries due to diplomatic or logistical reasons, such as Cubans, Haitians, Nicaraguans and Venezuelans.
It will also allow the U.S. to continue a major component of the border strategy President Biden unveiled this year — applying "consequences" to, or deporting, migrants who enter the country unlawfully and fail to use a legal migration channel created by his administration.
The agreement was announced after senior U.S. officials, including Mr. Biden's Homeland Security Adviser, Liz Sherwood-Randall, met with Mexican President Andres Manuel López Obrador in Mexico City to outline their plans to manage migration once Title 42 expires next week.
Since March 2020, Title 42, a public health authority dating back to World War II, has allowed U.S. border agents to expel hundreds of thousands of migrants to Mexico or their home countries without giving them a chance to seek asylum. The policy is set to sunset on May 11, with the expiration of the COVID-19 public health emergency.
Most migrants have been expelled to Mexico, which has accepted returns of migrants from Guatemala, Honduras and El Salvador, alongside its own citizens, under Title 42. Since January, Mexico has also accepted expulsions of migrants from Nicaragua, Cuba, Haiti and Venezuela.
Senior U.S. officials, including Homeland Security Secretary Alejandro Mayorkas, had previously said that it was their intention to continue deporting migrants from these four crisis-stricken countries to Mexico. But Mexico had not publicly announced their agreement until Tuesday. In the joint statement, Mexico said it would continue receiving non-Mexican migrants for "humanitarian reasons."
Source: Diario.MX
The Chihuahua Post