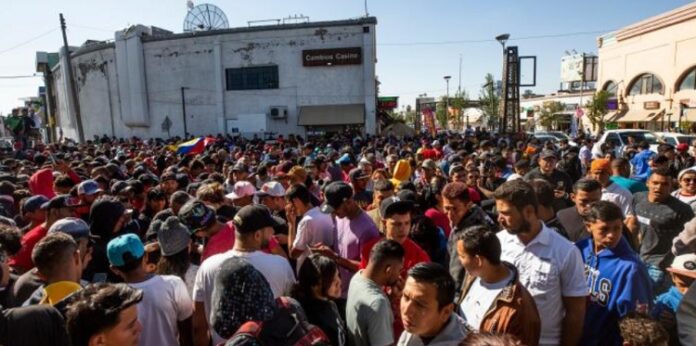 CIUDAD JUAREZ, CHIHUAHUA.- The Paso Del Norte bridge connecting El Paso and Juárez was temporarily closed to traffic Monday morning after a large group of migrants gathered on the Mexican side.
U.S. Customs and Border Protection, which operates the port of entry, said it is limiting vehicle traffic but continues to process pedestrian traffic. CBP said it also conducted a "mobile field force" exercise at 9:30 a.m., which disrupted traffic.
"We are monitoring a large group at the base of the Paso Del Norte crossing in Juárez," El Paso CBP spokesman Roger Maier said in an email. "It is our understanding that the group is linked to a protest related to the Juárez fire and is being organized by college students."
A blaze in a migrant detention station in Juárez on March 27 killed 40 migrants and injured 26.
Hundreds of people gathered near the foot of the bridge on Avenida Juárez early Monday, many of them migrants from Venezuela. As of midmorning, the group hadn't attempted to rush onto the bridge as others did last month; Mexican National Guard soldiers guarded the Mexican side.
The interruptions to cross-border traffic have angered those who depend on the bridges to get to work and school across the U.S.-Mexico border.
A member of the Reporte de Puentes Facebook group, where more than 300,000 people crowd-source information about the bridge lines, posted photos of the migrants' gathering.
"I don't think it's fair that because migrants want to cross into a country that doesn't want them, hundreds of people are affected by their actions," said a member identifying as Nelly Vera Ramirez.
The city of El Paso owns the Paso Del Norte bridge infrastructure, also known as the Santa Fe Bridge. Security camera footage that is usually live-streamed from the bridge was down on Monday, April 10th.
Source: Diario.MX