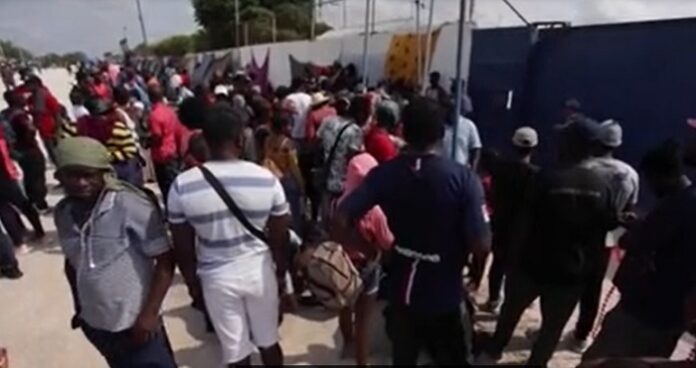 CIUDAD JUAREZ, CHIHUAHUA (May 28, 2022).- Migrants living in shelters and encampments on the Mexican side of the U.S. southern border had a new reason to despair after an American court extended a pandemic era protocol allowing the U.S. to immediately deport almost all asylum-seekers.
The White House said it would appeal the decision of a Louisiana judge that upended its plans to end the COVID-era health order, known as Title 42, blocking most asylum seekers and other migrants at the border with Mexico.
Rosibel Hernandez is a migrant from Honduras, and spoke to Reuters in Ciudad Juarez, Chihuahua, Mexico:
"We were very hopeful because the (U.S.) government had promised on May 23, it would end the Title 42 restriction. We have been stranded because we didn't know what measures the US was going to take. This is a big blow for those who have been stranded here for a long time."
U.S. President Joe Biden, a Democrat, came into office in January 2021 promising to undo the hardline immigration policies of his Republican predecessor, Donald Trump.
But so far, he has struggled to keep campaign promises to change the system.
Republicans seeking to win control of Congress in November have blasted his border policies as too lenient, pointing to record high migrant crossings, while some members of his own party have criticized him for failing to end Trump-era restrictions.
Enrique Valenzuela is the coordinator of the population council of the Chihuahua state government, who is among those in charge of handling migrants at the border.
"We know that the door for people who do not have a visa to enter the United States remains closed. People who come here hoping to enter (the United States) must wait for another time to be able to come forward to try to enter the United States."
Last week's ruling provoked a rapid outcry: asylum seekers on Sunday marched toward the Tijuana-San Diego border in a demonstration against a border policy that has kept thousands from being able to request protection in the United States.
While the White House appeals, the Department of Homeland Security said it would comply with the Louisiana court's order.
Source: El Diario