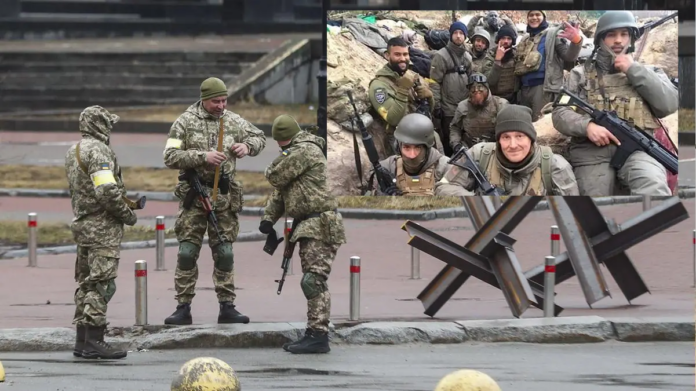 The photo of a pregnant woman leaving a bombed hospital made Luis decide to join the fight against the Russians; "I saw my sister's face in that woman," he said.
Luis, turned 29 years old into a veteran of the war in Mexico, today has a different cause to defend: that of Ukraine and awaits instructions in the city of Lviv to join the fight against the Russians.
The photo of a pregnant woman leaving a hospital bombed by the Russians made him make the decision, according to a report in the American newspaper The New York Times, which points out that Luis is one of the tens of thousands of volunteers who, mostly inspired In what they have seen on social networks about the war in Ukraine, they decided to join the fight against the Russian invasion.
Ukrainian Foreign Minister Dmytro Kuleba said that more than 20,000 people from 25 countries have volunteered to fight.
Luis, identified only by name out of fear that upon his return to Mexico he could be tried for fighting for a foreign army, is one of them. A decade ago, he fought drug cartels in Mexico, but later retired and became a photographer at events in the city of Chihuahua, according to the Times. He was primarily a wedding photographer. Until, after the start of the invasion, a photo from the Associated Press news agency was found on Reddit showing a pregnant woman wounded after a Russian attack on a maternity hospital in Mariupol. Although Russia assured that the place no longer functioned as a maternity ward, but as a base, the evidence indicates that pregnant women were treated there.
The photographer leaves his studio to travel to Poland
Luis read that the woman and her baby died. "I saw my sister's face in that woman," he told the Times. "I don't have children yet, but I imagined how the father of the baby felt, how the woman and her family felt."
So the Mexican decided to close his studio, sell his cameras, and travel to Poland, from where he crossed the border with Ukraine.
But he told his family, and his girlfriend, that he was going on vacation. "They would never understand," she explained.
Now he is together with other foreign military volunteers in a hostel in Lviv, in western Ukraine, where the Ukrainian government put them before they started training.