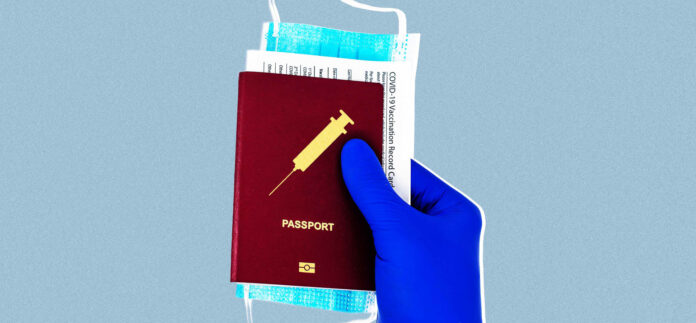 The Governments of the United States and Mexico confirmed that for the month of November the common border will be opened to enter the United States on non-essential trips, but it is clarified that entry to people vaccinated with the Cansino or Sputnik vaccines will be denied entry.
It will be from November when they accept travelers on a business, tourism, or shopping plan, but they will have to show – at the point of entry – their certificate of vaccination against COVID-19.
Omar Jonathan Pérez, web editor of Telemundo Arizona, said that the United States Customs personnel will request the certification of the vaccines to each person.
"The United States announced that they will not allow the entry of people vaccinated with Cansino and Sputnik," he said.
"It is said that when tourists enter the United States they will ask for a vaccination certificate, but when they come to Mexico nobody asks for anything."
After the announcement that the United States will reopen its borders to non-essential travelers starting next month, as long as they are immunized with doses recognized by the WHO, Mexicans intending to travel to that country are looking for different options.
Mexicans immunized with Pfizer, Moderna, Johnson & Johnson, AstraZeneca, Moderna, Sinopharm, and Sinovac will be able to enter the United States because they already have authorization from the WHO.
Others are disappointed to have received the biological from these laboratories.
As of Thursday, Mexico had received 8.9 million doses of these brands.
Just in the early hours of Thursday, 585,000 doses were received at the Mexico City International Airport and sent immediately to Guanajuato.
There began this Friday the application of first doses for citizens between 18 and 29 years old and since Thursday, the local government received requests from this age group to manage vaccines from other pharmaceutical companies.
"If I am going to travel to Europe and they do not accept that vaccine, how do I do it?" He questioned through social networks @QuirogaReis.
"We are in the same situation", "AstraZeneca, Johnson & Johnson and Pfizer by when?", Raised @ der_Mexikaner1.
In Facebook groups, young people ask how they can get doses of endorsed brands to travel to the United States.
Others, who have already received a dose, despite the warning that it is not advisable to mix vaccines, seek to be immunized with a different one to cross the border.
"Good afternoon. Do you know where I can get Pfizer vaccine? I was vaccinated with CanSino and it is not approved to travel ", questioned Mariana Martí.
Agni Garduño, who identified himself as a university student with residence in Mexico City, reported that he must travel to the United States for an academic exchange and has doubts about the restrictions.
"There they only accept #Pfizer or #AstraZeneca and they will not allow entry to those who have #SputnikV. Will they open the 1st dose for us?" He questioned local authorities.
In Reynosa, Tamaulipas, teachers were dissatisfied with the application of CanSino.
In addition to the uncertainty of requiring a reinforcement, there is what they call "Binational Exclusion" as they are left out of the list of potential vaccinated people who may cross into the United States as of November, denounced José Luis Coronado, spokesman for the dissident teacher movement "New Syndicalism Tamaulipas delegation.
He pointed out that the magisterium understands that all Mexicans must be protected equally and that there are protocols in the face of a pandemic like the one facing the country, but considered that the SNTE did not act responsibly.
Source: opinionsonora.com, dallasnews.com