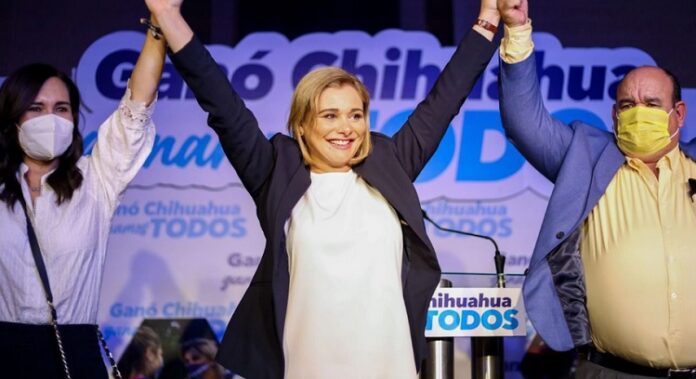 María Eugenia Campos, elected governor of Chihuahua by the Going for Mexico coalition (PRI, PAN, and PRD), is hospitalized due to covid-19, after testing positive for the virus.
Through her social networks, Maru Campos, as she is known, wrote that on Saturday she woke up with a headache and a lot of fatigue, so she decided to carry out a PCR, after being negative in a previous antigen test. "I entered a hospital as part of the care and daily medical supervision to overcome the disease sooner," said Campos through its Twitter account.
¡Buen dia!
Desde ayer por la tarde ingresé a un hospital como parte de los cuidados y la supervisión médica diaria para superar pronto la enfermedad.

Estoy bien. Muchas gracias por sus mensajes de apoyo y buenos deseos. Seguimos en contacto.

— Maru Campos (@MaruCampos_G) August 2, 2021
The future governor assured that she was in good health and thanked the messages of support and good wishes for recovery. "Please, let's take good care of ourselves. Let us not lower our guard and continue taking preventive measures because the virus is still here and all Mexican states are exposed to contagion ", she pointed out.
Campos met with Marko Cortés, leader of Acción Nacional political party three days ago, who also tested positive for covid-19 just a few days ago. In addition to this, she participated in a baby shower along with other local and federal PAN representatives, where the healthy distance was not respected and face masks were not used, according to the local press.
On June 6, Maru Campos won the elections in Chihuahua after a tortuous electoral campaign. A judge accused the politician of receiving bribes of more than 10 million pesos from former governor César Duarte, imprisoned in the United States for corruption and embezzlement. But Campos denies all accusations, stating that she never received such amount of money from Duarte or from anybody else.
Source: El País
The Chihuahua Post