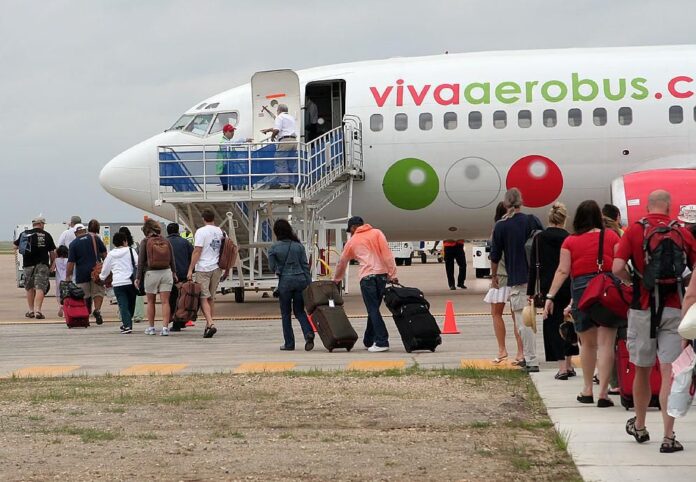 The air connectivity of this city continues to increase, now with a new Viva Aerobus route from Ciudad Juárez – Puerto Vallarta, at very affordable prices, starting May 2 with two flights a week (Thursday and Sunday). 
The objective of these flights is to offer a reliable, efficient, and accessible transportation option, reducing the travel time between both cities as it is a route that only Viva Aerobus will operate directly, without stopovers. 
Thus, and in coordination with the tourism and health authorities, work is being done to position and promote such entities as safe and attractive destinations for the summer vacation season.
The flights will be operated with Airbus A320 aircraft that are part of the youngest fleet in Mexico and the second youngest in all of North America, offering the highest standards in terms of safety, efficiency, and reliability. 
This new route will strengthen connections with other flights that this company already has from Mexico City, Guadalajara, Monterrey, Puebla, and Tijuana.
"Our strategic collaboration position must be the most decisive line of work for the tourist reactivation of our country, and today Viva is promoting Ciudad Juárez and Puerto Vallarta with this connectivity tool, which will surely bear fruit for all tourism service providers. from both destinations. ", said Francisco Moreno Villafuente, Director General of the Administration Trust for the Promotion and Development of Tourist Activities in Chihuahua.
It should be remembered that also on the international issue, this Thursday the flight from Las Vegas with Frontier will be arriving in the city, while from Southwest the one from Santa Ana, California and Denver arrived last week.
In February of this year, the Puerto Vallarta International Airport registered passenger traffic of over 160 thousand; This represents 69.6% less than the same period last year, where 530,100 travelers were registered; this, according to the monthly report of Grupo Aeroportuario del Pacifico (GAP).
Source: tribunadelabahia.com.mx