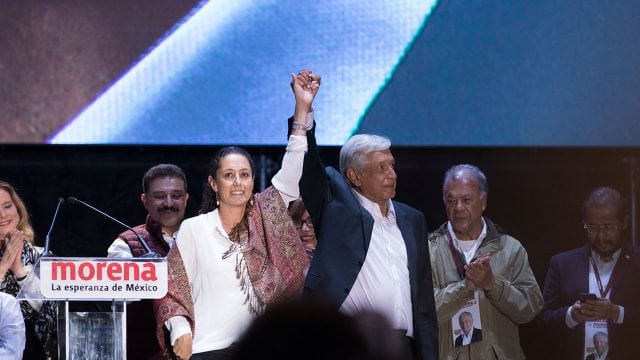 CIUDAD JUAREZ, CHIHUAHUA.- Mexico won't elect a new president until next year, but several leading political figures in Juarez have already made up their minds as to who that should be.
On Friday, several state lawmakers and members of the MORENA Party unveiled the #EsClaudia campaign in Ciudad Juarez. Their goal is to educate border residents about the work and ideals of Mexico City Mayor Claudia Sheinbaum.
The environmental scientist is the leading contender to replace Andres Manuel Lopez Obrador in 2024, according to a poll cited by the Associated Press last month. She is a member of MORENA as is Foreign Secretary Marcelo Ebrard, who is second in the polls. A citizens' committee promoting Ebrard's work has also formed in Juarez and murals promoting #ConMarceloSi can be seen in the city.
"That we have a woman president in Mexico is a historical opportunity," said Maria Antonieta Perez, a member of the Chihuahua legislature. "She has been active in social issues since she was in college. She has never been involved in any political scandal. To me, that's 50% of the battle. The other 50% is that she is prepared. She has demonstrated that in the academic field and as a government official."
Committee members did emphasize they are happy with the direction Lopez Obrador has taken Mexico and believe Sheinbaum would continue his signature social programs, such as Bienestar, or welfare for the poor and the elderly.
"We want (Mexico's) transformation to continue and to continue under Claudia," said Oscar Avitia Arellanes, a member of the Chihuahua legislature and coordinator of the #EsClaudia citizens' committee.  
With information from Border Report