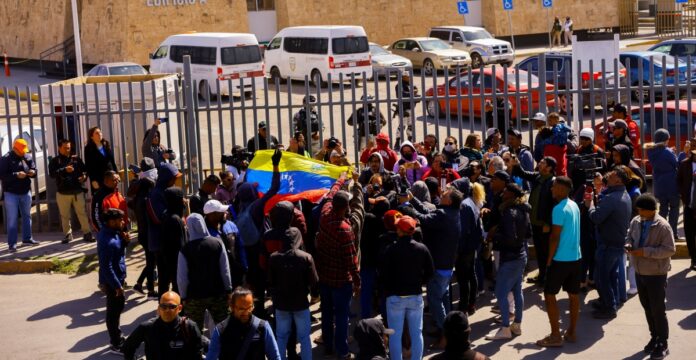 When Isidro's phone rang past his bedtime, he knew it could only mean a fire had started somewhere in Ciudad Juárez. The man on the other end of the line told him to head to the immigration detention center near the bridge that connects the Mexican border city with El Paso, Texas.
At around 10.20 pm on 27 March, Isidro didn't know he was on his way to an epic tragedy.
When he arrived, he quickly changed into his fire gear and ran to the door of the burning building, passing several lifeless bodies on the ground outside. He was unsure if those men were still alive.
"One of the firefighters said to me, 'There are more people inside. Go! Go! Hurry!' That's when I realized this could be a tragedy," said Isidro.
He asked for his true identity to be withheld due to concerns about his safety, as those who fought the fire have been barred from speaking to the media amid a federal investigation. Isidro, not his real name, provided the Guardian with some pictures of the fire and audio of related calls to back up his account of being involved.
According to surveillance footage verified by a Mexican government minister, guards attempted to leave the facility as flames grew and smoke filled a cell housing dozens of Latin American migrant men who were unable to escape. Forty migrants died, while more than 20 others sustained injuries.
Isidro entered a hellish scene.
"People weren't screaming for help. They had been inhaling carbon dioxide produced by the fire, so most of the migrants were unconscious," he said in an exclusive interview.
He began carrying body after body from the facility. Most seemed to have been overcome by smoke, he recounted, and he and his fellow firefighters found about 20 huddled in the bathroom area where they had fled, turning on the shower to try to dissipate choking smoke.
Source: Diario.MX
---