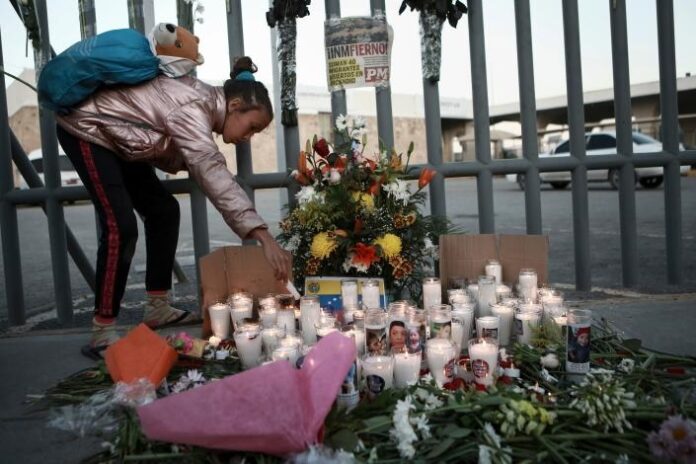 The fire that led to the deaths of 40 people in a migrant detention center in northern Mexico marks a "good moment" to consider alternatives to depriving migrants of their freedom, a senior Red Cross regional officer said.
Mexican President Andres Manuel Lopez Obrador said the detainees had been unable to escape because the person in charge of the key to the cell was not there when the fire began. The incident is one of the deadliest migrant tragedies in years.
"Depriving migrants of their liberty for being migrants should be a last resort," said Olivier Dubois, head of Mexico and Central America for the International Committee of the Red Cross (ICRC) on Wednesday, adding alternatives to incarceration should be expanded.
Dubois spoke to Reuters ahead of a Thursday presentation of its annual report, which found that through 2022 and the beginning of 2023, migrants from South America and the Caribbean in transit through Mexico outnumbered those from Central America.
He noted significant challenges in Mexico regarding the treatment of people held in migrant detention centers. According to official data, 43% more people were detained last year compared to 2021.
Authorities say one or more migrants held in a federal government detention center in Ciudad Juarez, which sits across the border with the United States, protested by burning mattresses in the cell where they had been locked up earlier that day.
Survivors told Reuters the men were protesting plans to be transferred to another center and the poor living conditions at the center.
A video circulating online – appearing to be security footage from inside the center during the blaze – showed men kicking on the bars of a locked door as uniformed people walk past without trying to open the door.
In January, the Biden administration said it would expand Trump-era restrictions to rapidly expel Cuban, Nicaraguan, and Haitian migrants caught crossing the U.S.-Mexico border.
Dubois said the rights and dignity of migrants deprived of their freedom while in transit needed to be a "priority."
In its report, the ICRC said it was also concerned about addressing and preventing armed violence that is displacing more people in Mexico, the Caribbean, and Central America.
"The pain of searching for a loved one, being forced to flee home to save your life and that of your family, or communities cut off from essential services, is similar to that faced by people in parts of the world hit by armed conflict," it said.
Source: El Financiero