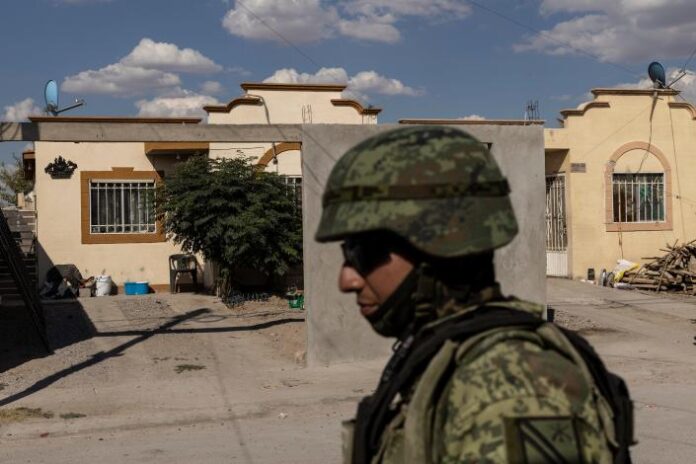 CIUDAD JUÁREZ, CHIHUAHUA― The battery in Mario Romero's phone was dying.
But he had enough charge to see the social media posts about trouble breaking out around the city that August day.
He and his colleagues from a local radio station were doing a live promotion at a Little Caesars pizza shop, but they decided to wrap things up early. While his co-workers waited for a few pizzas to go, Romero took the opportunity to solve his phone issue.
"My cell phone, it's old. No one had a charger like mine, and my battery was dying, so I headed to Office Depot to buy a wire, and on the way, I started to hear the screams and the (bullet) impacts," Romero told The Courier Journal during an interview in Ciudad Juárez, which sits across the border from El Paso, Texas.
When the shooting stopped, he ran back to the pizza shop, where he last saw his co-workers. The police were already there.
"I asked the officer, and he told me, 'There are some injured.' I prayed those were my friends, but then I saw their bodies lying on the floor."
Romero is the radio station's director. Four of his colleagues, including popular radio broadcaster Allán González, were among the dead.
"I'm a person of faith, so I believe what happened to me was a divine thing," Romero said of the fact he was spared.
Overall, attacks across the city that day left at least 11 dead and 12 injured, according to ­state officials.
The attacks on random customers inside the pizza place and a convenience store marked a disturbing moment in the wave of drug cartel-fueled gang violence that has plagued parts of Mexico.
It derailed the frequently repeated and comforting belief that organized crime targets only those in the same business, and it raised the question of what is to come.
It also put the often-criticized crime-fighting policies ― dubbed "hugs not bullets" ― of Mexican President Andrés Manuel López Obrador front and center.
"Hopefully, it's not something that will be repeated, because they attacked the civilian population ― innocent people," López Obrador said during a news conference following the attacks.
A February report from the U.S. Commission on Combating Synthetic Opioid Trafficking said the Mexican government needs to do more to stop the flow of drugs into the U.S.
Click here to read the complete original article by Karol Suárez in Courier-Journal
Source: Courier-Journal