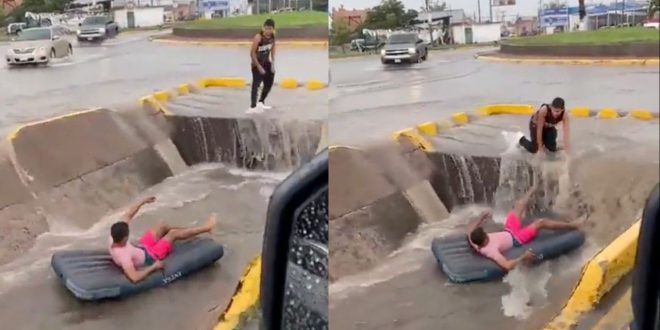 DELICIAS, CHIHUAHUA.- According to testimonies on social networks, the young man in the video is fine
After several weeks of drought in Chihuahua, the intense rains of recent days have been received with euphoria by many citizens who lamented the lack of water. In the city of Delicias, a man was caught on video lying on an inflatable mattress before being sucked down a drain.
The strange moment was captured on video this Thursday afternoon by a motorist who was driving on P.º Gómez Morin.
#Viral en las redes sociales.
Captan a joven en un colchón inflable sobre el Canal #GomezMorin en #Delicias Chihuahua después de la intensa lluvia que azotó a la Ciudad y dejó inundaciones repentinas.
La segunda parte del video espero obtenerla en próximas horas pic.twitter.com/U9waCHo2eI

— Chihuahua Tiempo Severo (@ClimaChihuahua1) August 26, 2022
In the images, you can see a man who threw himself with an inflatable mattress on the channel that divides the avenue.
The subject seems to be enjoying the moment until he reaches a drain where a friend is waiting for him.
The other young man tries to pull the friend out of him, but the current is so strong that the man on the inflatable mattress ends up being swallowed by the drain.
According to the inhabitants of Delicias, this channel passes under the Gómez Morín roundabout and at a distance of 55 meters comes out on the other side to the surface.
On social networks, several users assured that the protagonist did not lose his life. The municipal government of Delicias reported a white balance after yesterday's storm.
Authorities recommend the population not carry out actions such as those seen in the video. Not only is it dangerous due to the risk of being sucked into a drain, but it is also unhygienic to come into contact with sewage.
Source: Televisa Noticias