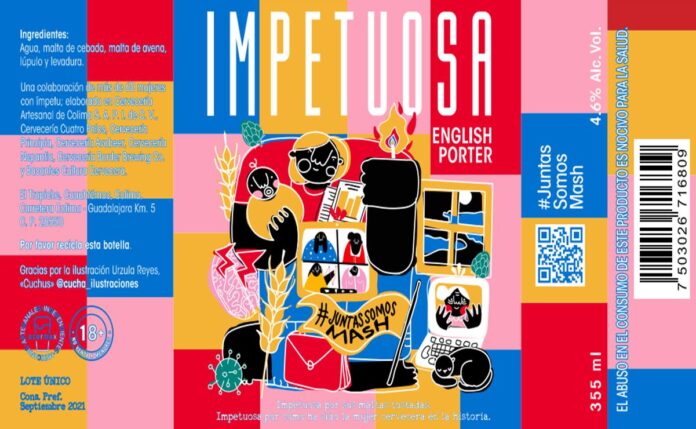 Today the brewers of Mexico will be creating a label that represents them, simultaneously they will cook the same recipe in six states of the country
80 women from 50 craft breweries and four collectives will cook a limited edition beer throughout today simultaneously in six states: Cervecería de Colima (Colima), Cervecería Principia (Monterrey), Cervecería Cuatro Palos (Querétaro), Avobeer (Morelia), Nepantla (San Cristóbal de las Casas) and the Bacantes Cultura Cervecera Collective who will take over the Border Brewing facilities (Ciudad Juárez).
This year the style of beer will be an English Porter, which will be available from the last week of March. You can buy it online, and in the places that the breweries, participating groups, and Impetuosa's own networks advertise.
Dark brown with ruby ​​sparkles. On the nose there are roasted malts and on the palate it is high-bodied.
Part of the proceeds will go to a social cause. Here it should be noted that last year, 136 thousand pesos were collected, which were donated to three organizations in favor of Mexican women.

Photo: IG @ProyectoImpetuosa

The label was illustrated by the Colima artist Urzula Reyes, better known as Cucha o Cuchus, a communicator, illustrator and feminist.
These events aim to make the work of women visible within the industry, and to put on the table some problems faced when playing different roles in times of crisis.
In addition to the collaborative label during 8M, throughout March there will be talks in online mode that help build solutions and proposals for change in the beer industry. The talks via YouTube are:
-Discrimination and labor rights of women (March 4)
-Reproductive rights and chosen maternity wards (March 11)
-Violence against girls and women during the pandemic (March 18)
-Mental health: work hours and stress situations during the contingency (March 25)
-From the ale-wife to the impetuous, story of the woman in beer (March 26)
-Internal Forum: Organized Brewery Women (March 27)
Source: eluniversal.com.mx