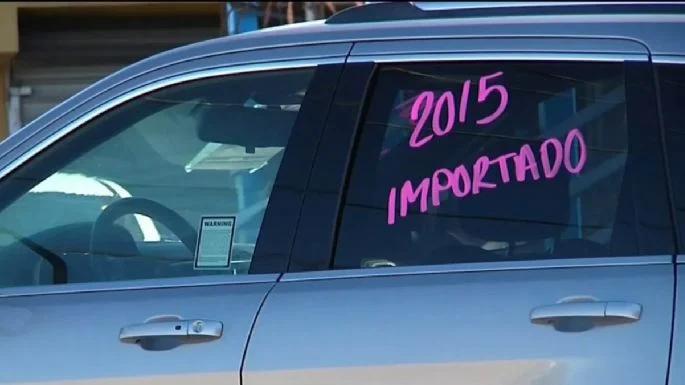 The trade in American vehicles is one of the common economic activities in the border states of Mexico, but can I sell my regularized chocolate car with Mexican license plates?
We must remember that the new decree that will expire in September, allows regularizing vehicles of foreign origin, which many people are taking advantage of to drive with an American car with a legal stay in Mexico.
Despite the fact that American cars rise in price with regularization, they are cheaper than agency cars, making it a saving option for Mexican drivers.
The Public Vehicular Registry (Repuve) only asks for 2,500 pesos as a single payment so that owners can comply with the regularization process for their chocolate cars, plus the cost of the license plates.
This procedure makes the vehicle increase its commercial value in Mexico, so it is on a par with second-hand nationals.
The new decree allowed chocolate cars to circulate through cities and highways throughout the country without any problem with traffic authorities.
There are those who have thought of selling the chocolate cars that already carry national license plates. People who are in this situation should know that there is a single definition by the authorities regarding this situation.
The petition is a basic document related to taxes and the requirements that are handled in foreign trade transactions.
Since the decree for the regularization of American cars began, this document has fallen into disuse, at least for vehicles that can be imported from Canada or the United States.
Selling your car
Once you have completed the process, you can sell your unit without any problem. The authorities in charge of this program indicated that in the absence of a petition, the document granted by REPUVE after regularization, is the main requirement for you to be able to sell it.
Something important to consider is that the decree only allows the importation of one car per person.
The price that the car will reach will depend on the model, brand, state of the engine and bodywork, as well as aesthetic and mechanical details of the unit.
Now that you know that the chocolate cars that complied with the regularization process can be sold, it is necessary to take into account that this new decree seeks to have a solid and complete identification of the owners of these vehicles.
Although the purchase and sale of imported chocolate cars is not prohibited, you have to do it responsibly and with the complete documents of the vehicle so as not to fall into any illegality.
Source: El Mañana