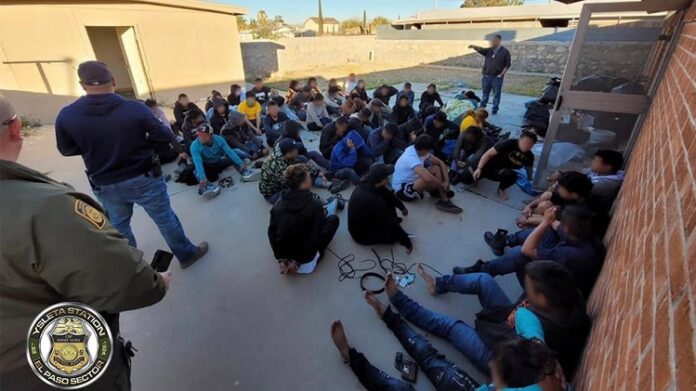 CIUDAD JUAREZ, CHIHUAHUA.- Texas Department of Public Safety and U.S. Border Patrol agents recently discovered more than 140 illegal immigrants at two separate stash houses near El Paso this weekend.
On Sunday, Texas DPS special agents were conducting surveillance with U.S. Border Patrol agents.
"Information was received on a potential stash house," DPS spokesman Lt. Christopher Olivarez said in a release Tuesday. "A search of the home resulted in a total of 95 migrants, 74 males and 19 females, including 2 minors. All migrants were referred to Border Patrol and the manager was charged federally with Title 8 USC 1324 Harboring Illegal Aliens."
In a separate operation, U.S. Customs and Border Protection El Paso Sector Chief Anthony "Scott" Good said Ysleta Station Anti-Smuggling Units foiled a smuggling scheme involving 51 migrants located inside a local residence. Migrants in that stash house were from Mexico, Honduras, El Salvador, and Guatemala and were found in good health, KRQE reported.
"The citizens in our local El Paso community provide an important partnership to help us safeguard our city. We encourage anyone with information to report suspicious activity to our office. That one phone call could help save many lives," Good said in a statement.
Just last week, Texas DPS said agents, while working on Operation Lone Star, discovered another stash house near El Paso with 23 migrants from Mexico, El Salvador, and Guatemala.
Texas DPS found a large group of migrants, including some children, hiding in a stash house.
Also inside the home was an elaborate Santa Muerte shrine, which shows a female skeletal figure wearing a long robe with a scythe in one hand and the world in another, authorities said.
The underworld saint is associated with the violent drug cartel trade, as the shrine is reportedly worshiped by Mexican drug cartel members who pray to it for their protection. The presence of the shrine highlights the connection between cross-border human smuggling and Mexico's drug cartels.
Source: Diario.MX
---