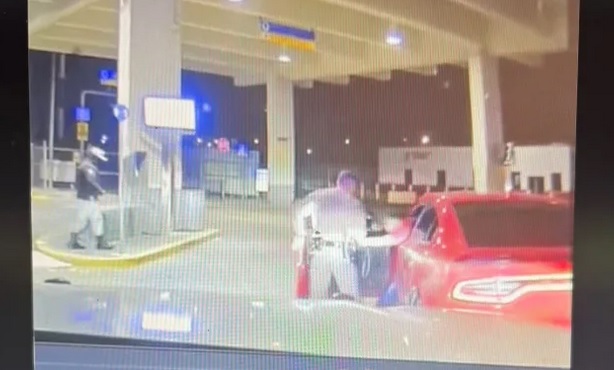 Videos circulating online show a Texas Department of Public Safety trooper apparently crossing the Mexican border and dragging a man out of a car in Juárez.
One of the videos online appears to be from the Texas DPS vehicle dashboard camera and the other from a bystander's cellphone, which shows the trooper and the Texas DPS vehicle in Mexico.
In the dash cam video, Mexican National Guard soldiers can be seen flashing their flashlights to pull over the driver of a red sports car. A voice inside the trooper's vehicle can be heard saying, in English, "Stop him!" Then an armed, uniformed trooper is seen pulling the driver out of the red car and forcing him to the ground.
It is a federal crime in Mexico to carry a weapon or ammunition into the country. There are multiple signs in El Paso warning southbound drivers not to take firearms across the international bridge.r
DPS spokesman Eliot Torres said the DPS cannot confirm the authenticity of the apparent dashcam video or how it got released to the public; the video and its release are under investigation, he said. Torres said the DPS is working on a statement regarding the events and could not provide additional details.
The passerby's video of the stop lasts several minutes. The armed trooper eventually returns the driver to his seat and speaks to him while Mexican National Guard soldiers mill about. It wasn't clear from the videos whether the stop resulted in an arrest or other citation.
The incident allegedly occurred at the Bridge of the Americas over the weekend. The international border is located at the top, or midpoint, of the bridge connecting El Paso and Juárez.
A spokesman for U.S. Customs and Border Protection referred all questions to Texas DPS.
The fallout grew quickly in Juárez, with complaints on social media about the inaction of the Mexican National Guard, the violation of national sovereignty, and the "invasion" by U.S. agents, an apparent clap back at the rhetoric of Texas Gov. Greg Abbott.
Click here to read the complete original article in El Paso Times
Source: El Paso Times