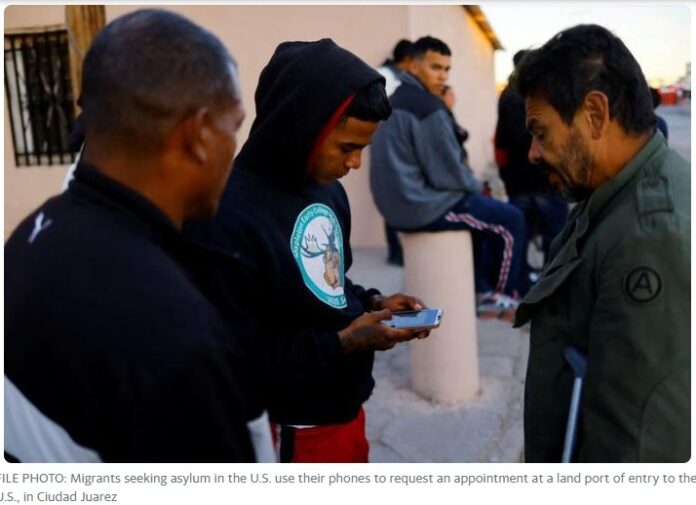 CIUDAD JUAREZ, CHIHUAHUA.- The United States is poised to start using fast-track asylum screenings at the U.S.-Mexico border, part of U.S. President Joe Biden's recent efforts to address a record number of illegal crossings, five sources told Reuters.
The move is likely to upset immigration advocates, some fellow Democrats, and asylum officers who criticized similar programs implemented under Republican former President Donald Trump.
The government is starting to plan for rapid screenings to determine whether arriving migrants at the border have a legitimate fear of persecution or torture in their home countries – the first step in an asylum claim, the five sources told Reuters.
A group of Biden administration officials visited the U.S.-Mexico border this week in preparation for the new effort, said two of the sources, both U.S. officials. It was unclear when the fast-track screenings will begin.
Under the plan, asylum seekers detained by U.S. Customs and Border Protection (CBP) would have remote interviews with a U.S. asylum officer within days, the sources said. If the person failed to establish a fear of persecution, known as a "credible fear" test, they would be deported.
The White House and the U.S. Department of Homeland Security did not respond to a request for comment.
Reuters first reported in December that the fast-track screenings were under consideration.
While the speedy processing could help Biden deter crossers by demonstrating swift resolution of cases, opponents argue that legitimate asylum seekers would not have adequate access to lawyers and could be unjustly deported.
"Imagine fleeing your home and loved ones, arriving at a new country to seek safety, and then being forced to present a complicated legal claim less than two days later, from jail," said Heidi Altman, the policy director at the National Immigrant Justice Center, calling it a "mockery of justice."
The new policy would be similar to pilot programs from the Trump administration, the sources said. Biden ended those programs in an executive order issued soon after he took office in January 2021.
Biden earlier this month expanded a pandemic-related border expulsion policy started under Trump, while at the same time opening up more legal pathways for migrants to enter the United States, a move the administration said led to a drop in crossings in January.
Michael Knowles, a representative of a labor union representing U.S. Citizenship and Immigration Services (USCIS) workers including asylum officers, said the union has already told USCIS it will oppose any new policies that restrict access to asylum.
Source: CBP
---
---