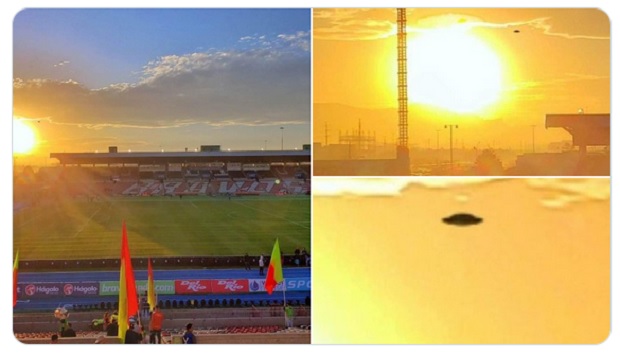 Mexico's most-famous ufologist Jaime Maussan claims a photo of a supposed UFO hovering over the FC Juárez soccer stadium last weekend shows "a ship of nonhuman origin."
FC Juárez created a fun stir this week by sharing a fan's photo of an unknown dark object close to a bright setting sun behind Estadio Olympico Benito Juárez on Saturday, January 14th, at the Bravos game against the Tijuana Xolos. A close-up of the small dark speck looks similar to a flying saucer.
HELP, @jaimemaussan1! 👽😱
Un aficionado nos mandó esta fotografía que tomó durante el partido 🆚️ @Xolos, dónde supuestamente se puede apreciar un #OVNI. 🛸

¿Es o no es? 🖖🤔 pic.twitter.com/51l79OMnvE

— FC Juárez (@fcjuarezoficial) January 17, 2023
In its tweet, FC Juárez tagged Maussan, who expressed interest and followed up on Wednesday, saying that the photo had been computer enhanced and analyzed. The enhanced photo shows a smooth, dark almond-shaped object.
"I share that the case was analyzed with AI equipment, and everything indicates that we are facing an unidentified anomalous phenomenon 'UAP', (Kyiv) scientists call these ships 'Ghost' for being dark objects," Maussan said in a tweet.
"Given all of the above, I think it is a SHIP of nonhuman origin," Maussan stated.
UAP stands for "unidentified aerial phenomena," or what the U.S. military now calls what were traditionally known as UFOs, or unidentified flying objects. Ukrainian astronomers have reported dozens of unidentified objects flying over Kyiv. Since Russia and Ukraine are at war, it's possible the sightings are military aircraft or drones.
Hola @fcjuarezoficial; les comparto que el caso fue analizado con equipo de IA, y todo indica que estamos ante un fenómeno anómalo no identificado "UAP", los científicos de Kiev le llaman a estas naves "Ghost" por ser objetos oscuros.

Estudio científico:https://t.co/ME6zUNd0WF pic.twitter.com/Z66zBeayE0

— Jaime Maussan (@jaimemaussan1) January 18, 2023
Maussan has reported on UFOs for more than three decades and hosts the longtime Mexican TV show "Tercer Milenio" (Third Millenium) about UFOS and other paranormal topics.
Twitter responses to Maussan's take on the Juárez UFO photo ranged from praise to criticism and jokes ‒ lots of jokes. Among the Twitter takes:
"Parece un bolillo." (Looks like a bread roll.)
"Parecen un sombrero." (Looks like a hat.)
"Super fake esa foto" (The photo is super fake.)
Whether the object in the Juárez UFO photo is nonhuman or nonsense is up for debate.
Source: Diario.MX