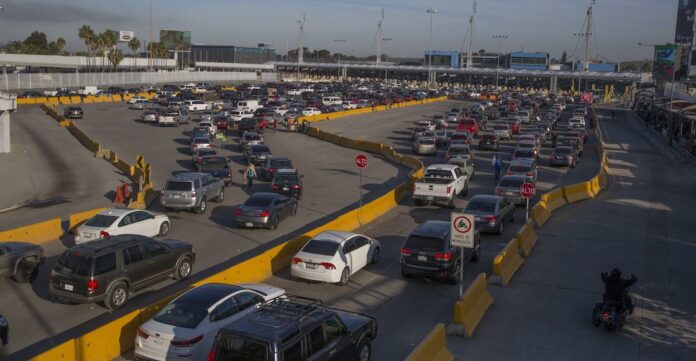 October 25, 2021
New rules? United States authorities announced this Monday, October 25, that they tightened some of the requirements to cross the border that exists with Mexico. Let's remember that on November 8, non-essential trips will be allowed again.
The United States tightens requirements to cross the border with Mexico
According to journalist Ariel Moutsatsos, this Monday the United States government gave more information about the requirements that they will ask to cross their borders, so travelers from Mexico must be aware of the new rules that they released.
That's right, senior officials of the government of President Joe Biden pointed out that some of the requirements to cross the border, starting on November 8, will be toughened, although there is also good news since one of the specifications is that 18-year-olds or minors will not need vaccination to go to the neighboring country.
What are the requirements to enter the United States?
As we told you above, people 18 years of age or younger will not need to prove that they are vaccinated to enter the United States. Of course, those who travel by plane must present a negative test of a maximum of 72 hours before boarding, while babies of two years or less do not have to present anything.
Meanwhile, their nationals not vaccinated against COVID-19 will be able to enter if they present a negative test made a maximum of 24 hours before the trip. In all cases, to verify vaccination, they will accept official certificates issued by the countries in print or digitally.
All these vaccination requirements will apply for non-essential trips, such as tourism or family visits. However, as of January 2022, travelers classified as "essential" will also need complete vaccination proof.
Exceptions … that will not apply to travelers from Mexico
The United States authorities also reported that there will be some exceptions for travelers from other countries, not from Mexico, where there are vaccination rates lower than 10% and who do not travel for tourist reasons. Yes, they could be exempt from the vaccination requirement, presenting a negative test, although each case will be evaluated.
Likewise, those travelers who for verifiable health reasons could not apply the vaccine and whose trip is not for tourism could be exempted by also presenting a negative test.
Source: sopitas.com