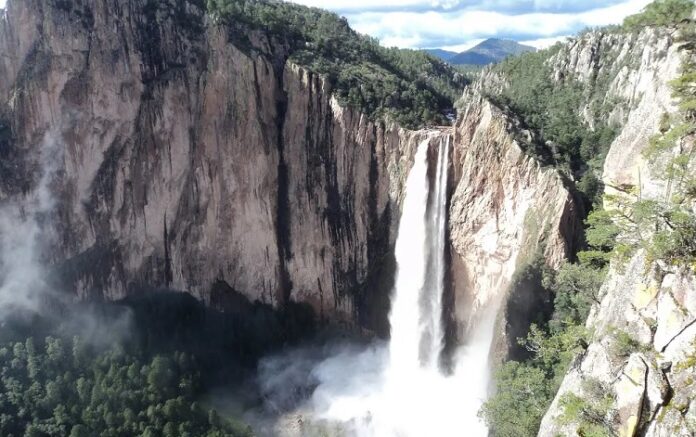 The Basaseachic Falls on the Basaseachic River is the second-highest waterfall in Mexico, located in the Parque Nacional Basaseachic at Cañón Basaseachic in the Copper Canyon region of northwest Mexico, near Creel, Chihuahua.
It is 246 meters tall, second in Mexico only to the Cascada de Piedra Volada.
Through digital platforms, this Sunday, September 5th, a video taken in the vicinity of the Basaseachi Waterfall was shared, which presented an abundant flow of water derived from the heavy rains registered in the state of Chihuahua.
Cascada de Basaseachi, Chihuahua, México. 245 metros pic.twitter.com/RKbyoGnuF3

— Armando Herrera 🇲🇽 (@armandoextremo) September 5, 2021
With videos taken from the bottom of the body of water to the point where it empties into the top, user Armando Herrera showed the current status of the highest drop in all of Mexico.
Cascada de Basaseachi pic.twitter.com/tAfER8YreX

— Armando Herrera 🇲🇽 (@armandoextremo) September 5, 2021
The event was surprising because only a few months ago the waterfall "had dried up" due to the lack of water in the region.